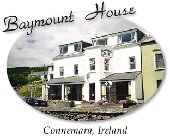 Welcome to Baymount House...Overlooking Clifden Bay and beneath the gaze of the Sky Road you will find Baymount House. One of Clifden's longest established B&B's, run by the McEvaddy family, with over thirty years of experience in welcoming visitors to Clifden. Our spacious rooms boast of spectacular views of Clifden bay and Monument Hill. Delightful shops, restaurants, pubs, art galleries and coffee shops are only a two minute walk away. Experience the best of both worlds at the doorstep: rugged, natural, breathtaking beauty and the comforts of a thriving, modern, Connemara village.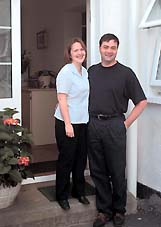 Your questions answered...
Why visit Clifden? The Beauty of the Clifden Area.
What to see in Clifden? Places to see.
Where to walk, cycle or drive in the area? Local walks, routes to cycle and drive.
When to come for Special events?
What to do in Clifden? Activities.
Why choose Baymount House? Our accomodation and breakfast menu.
How do I book a room?
How do I find Baymount House?
What are people saying about Baymount House?